RALEIGH DURHAM AIRPORT (RDU) INFORMATION
Origin
Airline
Flight no.
Scheduled
Est./Actual
Status
No flight arrivals were found at Raleigh Durham Airport.
Destination
Airline
Flight no.
Scheduled
Est./Actual
Status
No flight departures were found at Raleigh Durham Airport.
Car Hire at Raleigh Durham Airport
UNBEATABLE VALUE CAR RENTAL
Free Amendments | Free Cancellations | No Card Fees




Raleigh-Durham International Airport - All Information on Raleigh-Durham Airport (RDU) Raleigh Durham Airport
Raleigh-Durham International Airport, John Brantley Blvd, Morrisville, NC 27560, USA
phone +1 919 840 2123
phone+1 919 840 7553 (Lost + Found)
emaillostitems@rdu.com (Lost+Found)
Facts and History about Raleigh Durham Airport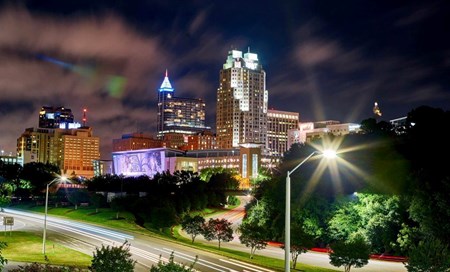 Raleigh-Durham International Airport is located in the region in North Carolina known as the Research Triangle surrounded by the City of Raleigh to the north and the east and the towns of Morrisville and Cary to the south. The airport serves as the main airport serving the cities of Raleigh and Durham, as well as the Research Triangle Metropolitan Region.
The airport's IATA code is RDU while the ICAO is KRDU. RDU is also what the airport is locally known as.
The owner and operator of the airport is Raleigh-Durham Airport Authority, also called the RDU Airport Authority, and the airport is the Focus city for Delta Air Lines. The RDU Airport Authority is a board of representatives from the counties of Wake, the county where the airport and Raleigh are located, and Durham and the cities of Raleigh and Durham.
The airport opened in May, 1943 with flights by Eastern Air Lines who promoted the new airport as they wanted to make it a stop on their New York-Miami route, because of its location in between.
The passenger terminal was built using left-over materials from the construction of barracks built for the Army Air Forces Air Technical Service Command Airfield. In 1951 the airport had 3 runways located southeast of the airport.
As more airlines joined Eastern the airport grew and in April of 1957 the airport showed 36 daily departures. The airport kept getting interest from different airlines and kept growing and in the mid-80's American Airlines built a new terminal to use as a hub. In 1995 American Airlines decided to close the hub and Midway Airlines took over up until 2003 with American Airlines subleasing the gates to Midways Airlines.
In the first decade of the 21st century many airlines were struggling because of economic downturns and high fuel prices, but by 2010 RDU's traffic began to recover.
Vision 2010 is a Master Plan released by the RDU Airport Authority in 2017 detailing the improvements planned for the airport up until 2040.These improvements includes major projects such as the construction of a consolidated rental car facility, parking lot expansions, expansions of both terminals including the number of gates, taxiway layout improvements and the complete reorganization and rebuilt of the runways.
Raleigh-Durham International Airport has two terminals with a total of 45 gates, 9 in Terminal 1 and 36 in Terminal 2. All international flights that are not pre-cleared are processed in Terminal 2.
RDU has 3 runways. One is concrete and is 3,048 m/10,000 ft long, while the other two are asphalt and they are 2,286 m/7,500 ft and 1,088 m/3,570 ft respectively.
RDU saw 4,883,913 passengers come through it in 2020 after their record year 2019 of 12,218,621 passengers. A decrease caused by the Covid-19 pandemic.
Arrivals, Departures and Airlines at Raleigh-Durham International Airport
Inter-terminal Connections at Raleigh-Durham Airport
There are no airside connection between the two passenger terminals at RDU, but on landside travelers and visitors have the options of either taking the moving walkway through the covered parking decks located in between the terminals or riding a complimentary airport shuttle bus.
Transfers at Raleigh-Durham Airport
Rental Cars – The rental car companies at Raleigh-Durham Airport have offices on airport grounds and they offer complimentary shuttles for travelers to transfer between the terminal and the company's office.
Shuttles pick customers up at the green Rental Car shuttle stop located in Zone 4 outside Terminal 1 and Zone 5 outside Terminal 2.
Buses – GoTriangle provides a shuttle that transfers travelers between the airport and their Regional Transit Center, located around a ten minute drive from the airport. From there passengers can transfer to an express bus to Raleigh, Durham or Cary.
Fares are purchased on the bus and are $2.25 for the regional bus and $3.00 for the express bus for a single journey. Children up until the age of 12 ride for free in the company of a paying adult. Teens aged 13-18 may ride for free provided they show their GoYouth Pass and seniors aged 65 or older also ride for free as long as they provide a valid ID. Disabled persons may travel on a discounted rate.
There are Greyhound bus stations in Raleigh as well as Durham. Transfers are necessary when traveling on public transportation.
Taxis – The airport itself does not currently provide a taxi service due to Covid-19. See more information about taxis that will travel to or from Raleigh-Durham Airport here.
Trains – There is no transfer with trains directly from the airport. There are Amtrak stations in Raleigh, Durham and Cary.
Shuttles – There are a great number of shuttle companies offering their services of transfer from Raleigh-Durham Airport. These are arranged in advance by the traveler or the traveler's representative. Shuttles pick their customers up at the brown limo zones located outside the Baggage Claim areas.
Hotel shuttles are pre-arranged through the hotel or the travel agency, usually at an additional charge.
Ride Shares – Ride Share companies also pick their customers up in the brown limo zone located outside of the Baggage Claim area. Transfers are arranged in advance using the company's app or website.
Parking at Raleigh-Durham Airport
There are several parking options at RDU and all offer both hourly and daily rates. The hourly rate can be used for up to the first 4 hours of parking, and after that it automatically turns into the daily rate. Parking fees vary from $1-4/hour or $7-22/day depending on which parking lot you park in.
All parking lots also provide disability parking spaces.
The Cell Phone Lot is located a few minutes' drive from the terminals. This is where greeters may wait in their vehicle for free for the traveler to be fully ready to be picked up at curbside.
Hotels near Raleigh-Durham Airport
There are a number of hotels to suit all budgets and requirements at or near RDU.
Smoking at Raleigh-Durham Airport
Smoking at RDU is strictly prohibited in other areas other than the areas designated for this purpose. The smoking areas are marked and signed and are located close to the terminals.
WiFi at Raleigh-Durham Airport
RDU supplies free WiFi through the network called "RDU Free WiFi". You will be automatically redirected to the landing page when you connect, where you have to accept the Terms & Conditions before you are able to go online. If the landing page isn't launched automatically, please open up your browser and go to a website and it will appear. If you are asked to enter personal information, know that this is completely optional and that you may skip this and go straight to accepting the Terms & Conditions and then online.
Power Outlets at Raleigh-Durham Airport
In Terminal 1 power outlets can be found throughout the restaurants, in the gate waiting areas/rooms and in the Baggage Claim area, adjacent to or built into the seating. In Terminal 2 electric outlets as well as USB port chargers can be found in the gate waiting areas/rooms.
Traveling with Pets at Raleigh-Durham Airport
Pet Relief areas can be found outside the Baggage Claim areas of both terminals. Pets are required to be in their crates during the time they are in the airport, except for in the pet relief areas. Please, keep the areas clean after your pet..
Currency Exchange Services at Raleigh-Durham Airport
Travelex Worldwide Money is located on the Ticketing as well as Baggage Claim levels of Terminal 2.
ATMs at Raleigh-Durham Airport
ATM/cash machines are located on landside as well as on the airside of both terminals.
Food, Beverage, Lounges and Shopping at Raleigh-Durham Airport
AEDs at Raleigh-Durham Airport
There are AEDs (Automatic External Defibrillators) located throughout the airport for use in emergencies. When an AED safety box is opened it triggers an automatic response by first responders.
Disability Assistance at Raleigh-Durham Airport
The airport has different support systems in place for disabled persons. If a traveler is in need of wheelchair assistance, or any kind of assistance at the airport, please request it through the airline first hand. If it has not been requested it is possible to ask either an air hostess on an arriving flight, before landing, or a skycap on curbside, as well as at one of the Guest Information Desks at the airport.
Things to do in Raleigh
There are a number of activities to suit all ages and interests in the region - see a selection of tourist activities in the city of Raleigh, North Carolina, USA.
Raleigh-Durham Airport Contacts
Address: John Brantley Blvd, Morrisville, NC 27560, USA 
General Phone: + 1 919-840-2123 
Lost and Found Email: lostitems@rdu.com 
Lost and Found Phone: +1 919-840-7553 
Official Website: https://www.rdu.com/ 
Local Information
Drive on: Right 
Electricity: 120V/60Hz 
Plug: A, B 
Currency: US Dollar, USD, $ 
Services at Raleigh Durham Airport
Useful Information about Raleigh Durham Airport