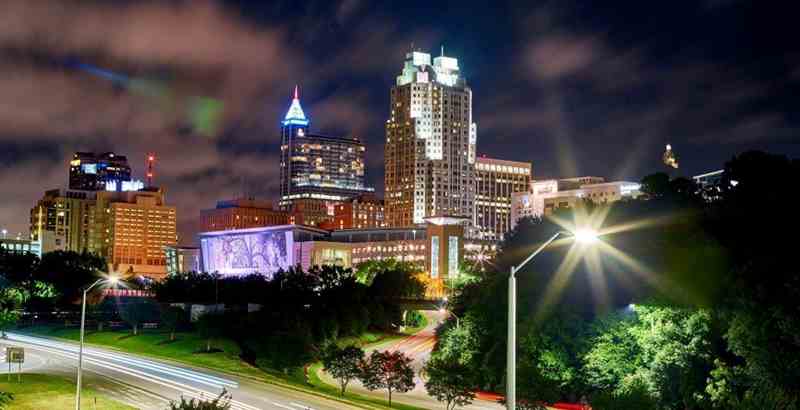 Tourist Attractions in Raleigh, North Carolina
Raleigh is the capital of the state of North Carolina, USA, and it is the largest of the three cities in the Research Triangle as well as being known as the City of Oaks due to its many oak trees lining the streets in the heart of the city.
North Carolina Museum of Art shows both a permanent collection with free admission as well as exhibitions, events and hold classes that are charged. The permanent collection includes works of art from Europe, America as well as other places in the world, including one of only two permanent displays of Jewish art in an American art museum. Art that can be seen at the museum spans from the 19th century Renaissance, to ancient American, African to modern contemporary art.
Taste Carolina Gourmet Food Tours is a company that offers walking foodie tours/adventures in nine cities. During a tour you will visit bars, markets, restaurants as well as specialty food shops with five or more tastings depending on which tour you choose to go on. The tours are combined with history and architecture as well as chats with chefs and owners of the places you visit. The tours generally last between 3 and 3.5 hours and will cover up to three miles of walking in a leisurely pace.
Mordecai Historic Park is the site for Mordecai House, the oldest house in Raleigh still in its original location. This was once where the largest plantation in Wake County was located with Mordecai House built in 1785. Here, in the Mordecai Historic Park, we also find the 17th President's birthplace and childhood home, a small 2-room shack witnessing his very poor upbringing and more.
Raleigh Farmers Market is the market place where farmers from the area promote their cheeses, fruits, vegetables, meats and other locally produced goods of high quality. Even if you are not looking for ingredients to a delicious meal there are so much more on this market to look at as there is a wide variety of specialty shops offering old-fashioned candies, gifts, soaps and other items.
Raleigh Little Theater is a fun place to spend an evening while visiting Raleigh. The theater is an outdoor live theater where the people of the city come together for theater productions for all ages. Their mission is to use theater to enrich, educate, entertain and engage through offering innovative, engaging and diverse theater for participants and audience alike.
Go Ape Treetop Adventure is an attraction that brings you above the trees in Blue Jay Point County Park. Go Ape Treetop Adventure can be found in at least 13 states and their mission is to inspire everyone to live life adventurously from zip lining and monkey dropping to axe throwing and aerial adventures. If you ever wanted to see what it would be like to live up in the trees this is where to come.
Pullen Park is located on more than 60 acres of land near downtown Raleigh. It goes back to the late 19th century and includes indoor and outdoor attractions. This is the first public park in North Carolina. It is a place where you can ride a carousel, sign up for an art class, rent a pedal boat, have a picnic, see a play, take a swim , play your favorite sport. It has playgrounds, an aquatic center, a community center, an arts center, a café and much more.
SEA LIFE Charlotte-Concord Aquarium General Admission
SEA LIFE Charlotte-Concord Aquarium is located in Concord, just outside Charlotte, NC and while it is a fairly small aquarium it has a lot to offer its visitors with 10 different zones as well as the 180-degree Ocean Tunnel where you can walk under the waves of the sea.
The aquarium is the home for around 5,000 undersea creatures including rays, seahorses, sharks and more from local streams, rivers and lakes, to the Catawba River and the depths of the ocean, including the tropical underwater of harbors around the world.
While strolling through the Tropical Ocean Exhibit and through the awe-inspiring Ocean Tunnel you might see shoals of glittering fish swimming alongside you and if you look up you may see sharks, stingrays, or even Neptune, a rescued green sea turtle, gliding above your head.
With zones, or exhibits as they are also called, such as Seahorse Mangrove Exhibit, Stingray Bay, Jellies Exhibit and Coral Reef Exhibit there is plenty of beautiful and fascinating underwater creatures to see and explore and if you want to learn more about how to help protect the ocean and all its creatures check out Conservation Cove.
Charlotte: 90-Minute Electric Cart City Sightseeing Tour
If you happen to visit Charlotte during your time in North Carolina this fun and educational 1.5-hour guided sightseeing electric cart tour will give you a good idea of the city's architecture, character, history and local life.
After meeting your guide and your fellow explorers at Fitzgerald's Restaurant, known for their fried pickles, it's time to board the electric card and hit the city streets.
The tour will take you through Uptown Charlotte's 4 wards and along the way you will see some of the city's most popular churches, museums and luscious parks. This is followed by a visit to each of the sport's stadiums in Uptown Charlotte, including a photo stop outside Carolina Panthers Stadium.
Admire the architecture of the 19th century buildings in the historic 4th ward and learn about the history of this vibrant district of Charlotte.
UNBEATABLE VALUE CAR RENTAL

FREE
Amendments,
FREE
Cancellations,
NO
card fees!

airport_shuttle Need Airport Transfers?
Useful Information about Raleigh Durham Airport